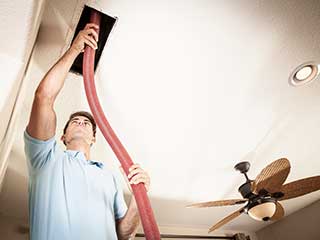 What Does Air Quality Mean Anyway?
The air quality simply refers to how free the air is from pollutants that have a negative impact on your health. There are a wide variety of factors that can affect the quality, such as smoking or dust and dirt. Low air quality in the home can lead to fatigue in healthy individuals, and more concerningly, issues with breathing for those who already have afflictions like asthma. The following services can help you ensure that your home's air is as clear as possible!
Air Quality Testing

While this won't directly change the air in your home, it's a great place to start! This test will let you know where your home's air stands as to the overall quality, but it also can give you specifics about what's lowering it. There may be too much pesticide being used that you weren't aware of, or mold that's sneakily started to grow. This way, you'll know where to start to get your home's air in better shape!

Air Duct Cleaning

As your air ducts draw in air to disperse through your home as heating or air conditioning, they also pull in dirt and other materials that get stuck in the duct. These substances build up over time and contaminate the air as it passes through. Without regular cleanings, your air can be bogged down due to this and be irritating your allergies thanks to whatever may be trapped there. Getting everything thoroughly cleared out can be a great help!

Air Duct Sanitizing

Sometimes what's in your duct requires more than just a cleaning to make certain that it's no longer effecting your home's air. If your ducts have been invaded by pests or mold, they could be doing real harm to your family's overall health. Insect waste acts as an allergen, and more concerning is rodent waste as it can carry diseases. Mold may find that your duct is the perfect place to spread if moisture gets inside, and the spores from it can be dangerous if inhaled. Getting your duct sanitized will erase all of these potential issues for you in no time!